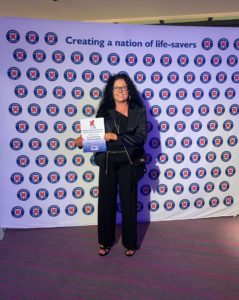 Every year, St Andrew's First Aid recognises extraordinary people and organisations across Scotland who have performed outstanding acts of first aid or have gone above-and-beyond their legal first aid responsibilities to make their communities safer.
This year, the annual Scottish First Aid Awards were held on 11th March and saw George Nicolson proudly being nominated for Organisation of the Year for First Aid Excellence. Although we were not selected to be the winner of the category, we are grateful to have been chosen as a finalist. (Avril A pictured to the right accepted the Certificate).
The calibre of this year's nominees was outstanding and we would like to congratulate each of the 2022 winners and finalists.
Funds raised through the Scottish First Aid Awards will ensure their work in local communities continues, bringing them closer on their mission to create a nation of life-savers.
For information on training, supplies, volunteering and more, please visit their website: https://www.firstaid.org.uk/