One of the ways we chose to mark our 50th anniversary was to release articles of some truly special and inspirational people who have played a huge part in making the company what it is today. This has allowed us to share a little bit about George, Bill, Freddie, Tam, Bobby, Donald, Johnny and Brian. Those of us who knew them will have lots of memories I am sure.  To those who joined in more recent times, I am sure you will enjoy finding out a little about those people who's names still pop up in conversation from time to time.  It has been nice to reflect, with it being a little emotional at times, but we hope everyone has enjoyed reading the articles.
Here is our final article on four true legends.
Bobby Parsons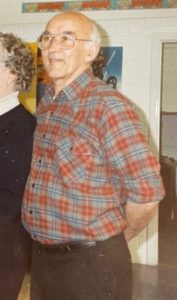 They don't make them like Bobby anymore unfortunately. Joining the company in the early 80's, he fulfilled the role of General Foreman which covered a whole list of jobs including every Friday going round all the sites and handing out the payslips and wages in cash (ATM's and online banking were not a thing in those days). His claim to fame was he wrestled in the Commonwealth Games for Scotland. He once challenged our then estimator Drew to a wrestle in the back shop of our former premises in Broughton Road. Drew was a big guy compared to Bobby. However, there was only one winner. Drew was pinned to the deck in a second with Bobby being victorious once again. Bobby was a real gent, always playing tricks on people, winding them up and telling wee jokes. He was ahead of his time with a computer at home, one of the first to ever own a microwave and he drank herbal tea too! As a tradesman he was gifted, an excellent wood grainer who inspired many. When he was a young tradesman, he used to walk to his employers shop to collect his wheel barrow and off he went to his job to carry out the decorating as instructed. Paid holidays were not a common thing then and working Christmas day morning was a normal occurrence.  A very hard act to follow, Bobby retired with us in 1993 with a party celebrating his service with us and thanking him for all he brought.
Donald Munro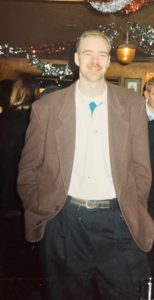 Donald had the slightly unenviable task of following in the footsteps of Bobby Parsons.  However, Donald was not a painter and decorator. George interviewed a number of potential candidates going with his first choice in Donald who had worked in his fathers paper shop for a number of years. George decided his experience of stock control and not being in the trade would work well and he was right (as usual). Donald fitted in very well.  He actually started his time with us 6 months prior to Bobby retiring so he could be shown the ropes. Donald was a nice guy, one of the best.  Nothing was ever a problem and he cared about his work and the people around him. He was at the end of a few pranks from colleagues but always saw the funny side. A good footballer in his day and he played well into his forties. Donald was diagnosed with cancer and fought a brave battle which sadly he lost in the summer of 2002. He was with us for just over 10 years and left a lasting impression on everyone who knew him. Yet another one taken too soon and a real gent!
Johnny Hoy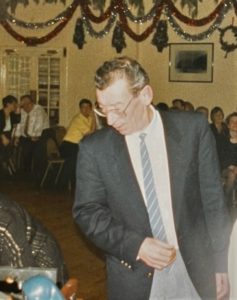 Known to most of his colleagues as 'Reggie', Johnny was an excellent tradesman and Site foreman as well as a shareholder. A real character who referred to himself as a fabric technician…. Johnny's service with the company spanned over three different decades. You could always rely on him. He was a straight talker who everyone respected. Sadly, not long after Johnny retired, he passed away in November 2002. He was a huge loss to everyone who had the pleasure of knowing him and working with him.
Brian Gordon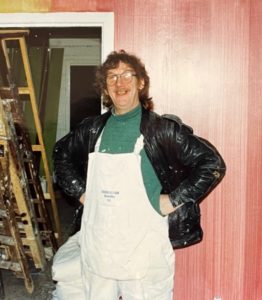 There was only one Uncle Buck as he was known to many. Brian's career started in Edinburgh slaughter house. When George (who was Brian's nephew) found out he was out of work, he duly offered him the opportunity to join the company. With no real experience in painting and decorating, he set out to learn as he went which didn't take long. Brian had a work ethic that was second to none. If there was a squad being put together for a job, he was one of the first names on the team sheet. Recognised not just for his effort,  but also for his personality – always a smile and a laugh.  He could dish it out big time but he could also take it on the chin too. Brian retired from the company but only after George talked him into working an extra year! It was a very sad day when in September 2018 we had to inform everyone that Brian had lost his fight against cancer. And it was a fight as the Gordon's are made tough. Another great person who was respected by so many and had no enemies.  Still sadly missed by all of us who had the pleasure to know him and experience that humour.