From an early stage, Mr George Nicolson understood the value in developing young people and started our first apprentice almost 40 year ago. George continued to be instrumental in influencing how the industry invested in young people over many years. Today, the company's evident ongoing commitment to young people has been recognised and we are delighted to have achieved Investors In Young People: Good Practice accreditation.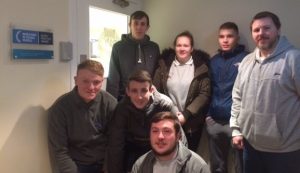 Young people are a vital part of our dynamic workforce as they are ambitious, motivated and eager to learn from our experienced tradespeople. The ongoing encouragement, development and nurturing of the young talent we employ will ensure they are kept engaged, work up to their true potential and learn important life skills.
All young people within our company are given training, support, guidance and the opportunity to have 'hands on' experience on all types of projects from the start. Working through general preparation, priming, filling and caulking then moving onto brushing, rolling and hanging wall coverings are but to name a few of the skills they will develop. In conjunction with the training they are provided through Edinburgh College, our young people can gain a wealth of knowledge and experience over the years to come whilst they proudly achieve their personal targets and goals.
Looking forward, the company will continue to strongly focus on the importance of recruitment, development and retention of young people and thus ensuring a continued increase of the skill level within our company and indeed the Painting and Decorating industry as a whole.
Congratulations to both Greg J for receiving the Freddie Blues Apprentice Of The Year Award 2016 and to Ben H for being voted as Runner-Up.