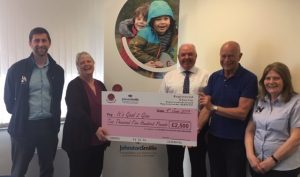 Various members of staff from George Nicolson including friends, family and other businesses were pleased to attend the 8th Annual George Nicolson Memorial charity golf day held at Kingsfield Golf Centre, Linlithgow. It was proposed that all funds raised on the day would be passed to Johnston Smillie to assist them with their fund-raising for their chosen charity 'It's Good 2 Give'. With great support from everyone involved in what was a fantastic day, we were delighted to be able to hand over a cheque in the sum of £2,500 to support them in the amazing work they do.
'It's Good 2 Give' is a registered charity which officially came to life in April 2010. They support young cancer patients and their families in Scotland.
They have a number of Patrons and Ambassadors. Lorraine Kelly, Catriona Shearer, Lynsey Sharp, Tonya Macari, Tony Kettle, Peter Capaldi and Professor Angela Thomas OBE are the newest patrons.  Grant Stott and Cathy Cassidy have worked with It's Good 2 Give since Spring 2010. They make a huge contribution to their work, helping with events, publicising their activities and generally giving them their support. Another is writer Sara Sheridan who spends a lot of time raising the profile of It's Good 2 Give.
To find out how to give your support, forthcoming events and more, please visit their website: http://www.itsgood2give.co.uk/.