Throughout our 50th year, we are planning to release articles remembering some of the amazing people who have been part of the business.
It was an easy decision as to who should be first. Without George & Bill there would be no George Nicolson (Decorators) Ltd. Back in 1972, after a year or two trading as 'Lorne Enterprises', George set up his own business.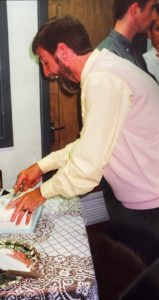 Thanks to Margaret, George's widow, who has been searching through old photos and paperwork (Margaret throws nothing away,) she found George's speech from Bill's retirement which was in August 2000.
It notes Bill served over 30 years with the company and even then he wasn't finished, continuing on for a few years in a part time role training our apprentices. George also stated that 'It was Bill who first got me involved in decorating. It's a fact that if it hadn't been for Bill there wouldn't have been a Nicolson Decorators'.
George later refers to Bill as not only a good employee but a good friend and advisor as well.
There are many stories of Bill's time with the company. As all who worked with Bill will tell you, Bill was an excellent tradesman. He could hang wallpaper quicker than some took to apply the paste. His experience was of great value as the company grew and Bill was more than happy to share his skills. The family connections in the business are not just through George. At 18 years old Michael, Bill's son, joined the business. Michael shared his job interview with us recently after one week of helping Bill George appeared on site, asked Michael if he was enjoying himself, which he was, and that was that. Michael has remained with the company and has been a Site Manager for a number of years.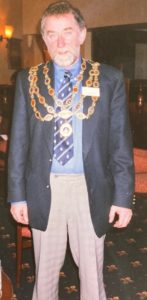 George certainly ensured the family were involved, being from a family of 10 (4 brothers and 5 sisters). Almost all of them worked in the business at some point, that includes his parents Danny & Grace, brother-in-laws, cousins, nephews, Grandad Peter, Uncle Brian and George's wife Margaret. We can't miss out George's mother-in-law Sybil (who he called 'the Duchess'), who helped out in the shop sometimes in the earlier days.
The business went through many changes and challenges over the years but steadily grew. They moved premises a few times before settling in Salamander Street in 1991 where they are still based today. The late 80's and early 90's saw George's sons Barrie and then Ewan join the business straight from school. 'I didn't have any choice to be honest' admitted Barrie, I had kind of left school and not told my Dad, when he found out I was marched into the work and my apprenticeship as a Painter & Decorator began there and then'. Ewan's experience was slightly different in that from a very young age he only ever wanted to work for his Dad. So as soon as he could leave school he joined and started in the office as a junior.
George steered the business through many years which brought about much change, probably the most significant was the works overseas. Firstly it was the Republic of Ireland then Italy where there were in the region of 25-30 projects undertaken. These were interspersed with projects in Northern Ireland, Holland, Germany, Spain, Sweden, Switzerland, France, Turkey, South Africa and Israel. Fantastic experiences for all those involved. George enjoyed visiting a number of these countries along with his very good friend Douglas Smith who was the designer for many of the sites.
George always wanted to improve the business and never more so than when it came to apprentices. From his first ever apprentice, Freddie Blues, who will appear in a later article, to the countless others who followed. The fact that today there are 13 employees with the company who served their apprenticeship with us speaks volumes about George's vision.
Sadly we no longer have Bill or George with us. George died in November 2010 aged just 64. Bill passed away in September 2016 aged 81, Both much respected people who the company will forever be indebted to for their service and dedication.
The photo at the top of the page was taken in our offices at Bill's retirement party and includes from left to right, Bill's lovely wife Isobel, George, Margaret and Bill.