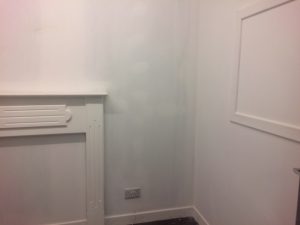 Recently we unveiled our new in-house training facility named the Bill Paterson Training Room.
On Friday 22nd December 2017, Margaret Nicolson officially opened the facility revealing it has been named after the late Bill Paterson. Bill was an integral part of the business from day one and in fact his painting and decorating skills were one of the main reasons George Nicolson established the business back in 1972.
Always keen to pass his skills and experience onto future generations, over the last few years of his employment Bill spent a lot of time working specifically with apprentices to help them develop their skills and progress into becoming qualified tradespeople. Bill served the company for 28 years' until he retired in August 2000.
The company is committed to the on-going investment in young people with essential guidance and support from Investors In Young People and Re:markable. Thus ensuring a continued increase of the skill level within our company and indeed the Painting and Decorating industry as a whole.
The new Bill Paterson Training Room will not only allow apprentices to develop their skills further, but will also allow our qualified tradespeople to 'brush up' on any areas they wish to improve on or indeed simply for practice purposes.
We thank Bill's family for allowing us to name this training facility after him.