Every December we hold our Apprentice Of The Year Awards. No directors or senior management are involved in the voting as the nominees are voted for by our site operatives and site management only.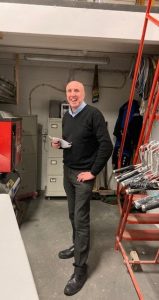 Our Contracts Manager, Andrew Scotland (pictured left), gave the following presentation:
"Although this is not the 10th year this Award has been presented, it is the 10th year it has been known as The Freddie Blues Memorial Award. For me and for the benefit of Kye who joined us this year, Freddie Blues was George Nicolson Decorators very first apprentice but sadly is no longer with us. It is fitting we remember him through this Award.
This year has been a year like no other. None of us will have witnessed anything like it. This year saw one of our colleagues and friend cruelly robbed of his life – Tam will be missed for a long, long time.
The pandemic also lead to circumstances that saw us part company with 3 of our apprentices. We wish Barry, Calum and Ryan all the best for the future.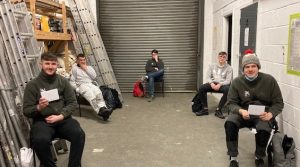 Still it was not all bad. We saw Kye join our ranks and he has settled in well with us and is receiving good reviews from both Site Managers and college reports. This year also saw Chloe T pass her Skills Test with flying colours and graduate to Tradesperson receiving a contract with the company so well done her.
As a group, we must look forward for 2021. The company has provided each of you with the tools, along with the back up and guidance to become good tradespeople, to pass your Skills Test and earn that contract that we want you to earn which is the goal each of you should be desperate to achieve. We believe you all have it in you to do this but you must recognise the chance you have been given. You must grab this opportunity with both hands and realise what is there in front of you. So work hard and become the tradespeople we believe you can be.
Now I am not sure if you realise this but at this present time, there are employees throughout the company who served their apprenticeships here along with scores of others who have for one reason or another are no longer with us. Some of them had the quality to achieve Site Manager level so this shows you can earn your contract.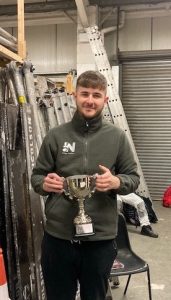 And now to the Award. I know I say this every year but there is no reason why any of you cannot win this Award next time. The two people who will be accepting the awards achieved this by hard work both in college impressing their tutors, as well as on site not only listening to their Site Managers and tradespeople, but carrying out their tasks to a high standard and in a good time.
So after today, go and enjoy your break. Come back safe and healthy and looking forward to the future. We hope we can put these dark days behind us and look forward to the light."
We would like to congratulate Lewis McL (pictured left) on receiving our Apprentice Of The Year Award 2020. We also extend our congratulations to Kristofer M for being a close second.
Young people are a vital part of our dynamic workforce as they are ambitious, motivated and eager to learn from our experienced tradespeople. The ongoing encouragement, development and nurturing of the young talent we employ will ensure they are kept engaged, work up to their true potential and learn important life skills.